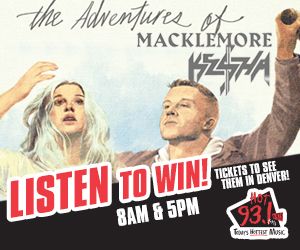 Hot 93.1 is sending you to see Macklemore and Kesha Live
Hot 93.1 is sending you to see Macklemore and Kesha Live
Hot 93.1 is hooking you up with another great summer time concert experience! We are sending you and 3 friends to see Macklemore and Kesha, live at the Pepsi Center in Denver on June 17th.
Your chance to qualify happens every weekday around 8 am and again around 5pm. Just listen for your Macklemore Kesha Mashup Sounder, be caller number nine and you are automatically in the running to see the concert experience of the summer. One lucky qualifier will be chose on April 27th.
Macklemore and Kesha live at the Pepsi Center in Denver. Hot 93.1 is gonna give you 4 tickets to the concert, 2 nights in Denver and spending cash to get you there. Hot 93.1 is hooking you up!
Macklemore and Kesha live at the Pepsi Center in Denver on June 17th.
With Hot 93.1 and 97.5
HOT Concert Contest Rules
KRCS - HOT 93.1 wants you to win great prizes while you enjoy our music. Here are the rules for daily prizes. You may only win one prize every thirty days and only one prize will be awarded per family or household during each specific contest. Prizes are non-transferable. Winners are responsible for all federal, state and local taxes in conjunction with any prize won.
Calling KRCS - HOT 93.1 or entering any contest on the KRCS - HOT 93.1 web site constitutes prior permission to use your name, photograph and voice in connection with promotion of any contest on KRCS - HOT 93.1. The resale or auction of complimentary prizes or tickets won will result in the disqualification for that person for all future KRCS - HOT 93.1 contests. KRCS - HOT 93.1 is not responsible for prizes that become unavailable due to unforeseen circumstances beyond our control. KRCS - HOT 93.1 cannot replace lost or stolen prizes.
Eligibility
All entrants must be at least 18 years old and legal residents of the United States. Employees (including their immediate families and members of the same household) of Homeslice Media, its affiliates (including Hot 93.1), and other radio station employees in Hot 93.1's ADI are not eligible to participate in this contest. One entry per person; multiple entries will disqualify the entrant. No purchase or other consideration is necessary to participate in this contest.
Release
Winners agree to release and hold harmless the promotion sponsors, Hot 93.1, Homeslice Media and each of their respective parents, subsidiaries, affiliates, directors, officers, employees and agents from any and all liability and any injuries, loss or damage of any kind arising from or in connection with this contest and any prize won. Winners (and their guests, if any) will be required to sign a form releasing Hot 93.1 and its affiliated companies from all liability in connection with the contest and the award and use of the prize before claiming the prize.
Disclaimer
Hot 93.1 undertakes no liability or responsibility, and makes no warranties, express or implied, with respect to the performance of the prize(s) awarded, for any failure to perform or negligent performance of any service provider, or for any other risk, incident or damage, direct or indirect, relating to or arising out of the contest, including (but not limited to) cancellations, postponements, delays or other scheduling changes; missed events or connections or inability of winner to attend; and accident, injury, damage or expense arising from or occurring during the use of the prize, or travel to/from or attendance at any event relating to the contest, by the winner and/or winner's guest(s). Hot 93.1 is not responsible for damage to a prize or loss of a prize after the prize has been claimed. Winners must inspect their prizes before leaving the station or event. Hot 93.1 is not responsible for the failure or malfunction of any telecommunications or computer system, or for lost, late or misdirected contest entries, whether transmitted by mail, telephone, fax or internet
License
Entry into any contest constitutes full permission for Hot 93.1 and promotion sponsors and their respective affiliates to broadcast and/or to photograph or publish the participant's name, voice, recorded comments, biographical information, face and likeness without compensation.
Taxes
Hot 93.1 will report the total value of each prize to the IRS and will furnish winners with a federal Form 1099. Winners must provide their social security number to Hot 93.1 for tax reporting purposes, and are solely responsible for payment of all taxes incurred as a result of the award of a prize.
General
Failure to conform to all contest rules, or any fraud or other illegal or inappropriate conduct on the part of a contestant, will result in the contestant's disqualification and forfeiture of any prize won. Hot 93.1 reserves the right to rule ineligible listeners who, in Hot 93.1's sole judgment, engage in abusive conduct with respect to any contest or promotion conducted by Hot 93.1's or its affiliates. By taking part in a contest, participants agree to be bound by these rules and all decisions of the judges, who are employees of Hot 93.1 and whose decisions with respect to all aspects of the contest are final and binding. Copies of written contest rules and the list of winners are available during regular business hours at the Hot 93.1 studio, 660 Flormann St, Rapid City, South Dakota 57701. Contest is void where prohibited by law. All federal, state and local laws and regulations apply.