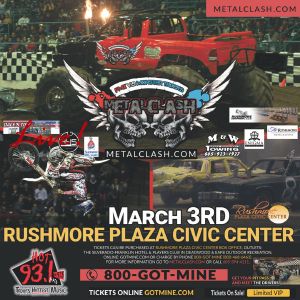 Road to Destruction Tour Tickets!
The Road to Destruction Tour is coming back to the Black Hills and Hot 93.1 has your tickets!
The car-crushing show will be rolling into the Rushmore Plaza Civic Center on March 3rd.
Listen all week long to Crissy and Oakley in the Morning and Stitch in the afternoon for your chance to win tickets to the Road to Destruction tour!
With Hot 93.1 and 97.5.
KRCS - HOT 93.1 wants you to win great prizes while you enjoy our music. Here are the rules for daily prizes. You may only win one prize every thirty days and only one prize will be awarded per family or household during each specific contest. Prizes are non-transferable. Winners are responsible for all federal, state and local taxes in conjunction with any prize won. Calling KRCS - HOT 93.1 or entering any contest on the KRCS - HOT 93.1 web site constitutes prior permission to use your name, photograph and voice in connection with promotion of any contest on KRCS - HOT 93.1. The resale or auction of complimentary prizes or tickets won will result in the disqualification for that person for all future KRCS - HOT 93.1 contests. KRCS - HOT 93.1 is not responsible for prizes that become unavailable due to unforeseen circumstances beyond our control. KRCS - HOT 93.1 cannot replace lost or stolen prizes.